As you've probably heard by now, Axelos is developing an update to the ITIL Framework: ITIL 4. Though full details have yet to be released for rollout, we do know we'll see the first update – ITIL 4 Foundation – in Q1 of 2019, with subsequent updates released over the course of the year. Beyond that timeline, here's what we know about ITIL 4:
ITIL 4 is a major revision
This update will be more akin to the update from ITIL v2 to v3 than the update from ITIL v3 to ITIL 2011; the 2-to-3 update provided major updates and enhancements, while 2011 provided relatively minor improvements and clarifications. From what we've seen of ITIL 4 thus far, it's quite the overhaul, including:
Increased focus on Agile, DevOps, and Lean
While many of us who work within ITIL know these frameworks and philosophies to be complimentary, there has been some pushback from those who say ITIL is old fashioned and doesn't take into account the latest process developments and trends, such as Agile and DevOps. ITIL 4 is much more closely aligned with these methodologies than previous versions and folds them into the framework throughout. In short, ITIL 4 builds upon v3, taking it a step further to incorporate these proven ways of working and help organizations navigate the new technological era (think AI, nanotechnology, quantum computing, etc.).
New ITIL 4 Certification Scheme
ITIL v3 is laid out with a Foundation course, a Practitioner level, and two intermediate modules followed by a capstone class. The intermediate modules focus on Lifecycle Courses—designed for management or team leaders—and Capability Courses—designed around specialized, process-level execution of practices.
As a review, here's the ITIL v3 certification scheme:
ITIL v3 Certification Scheme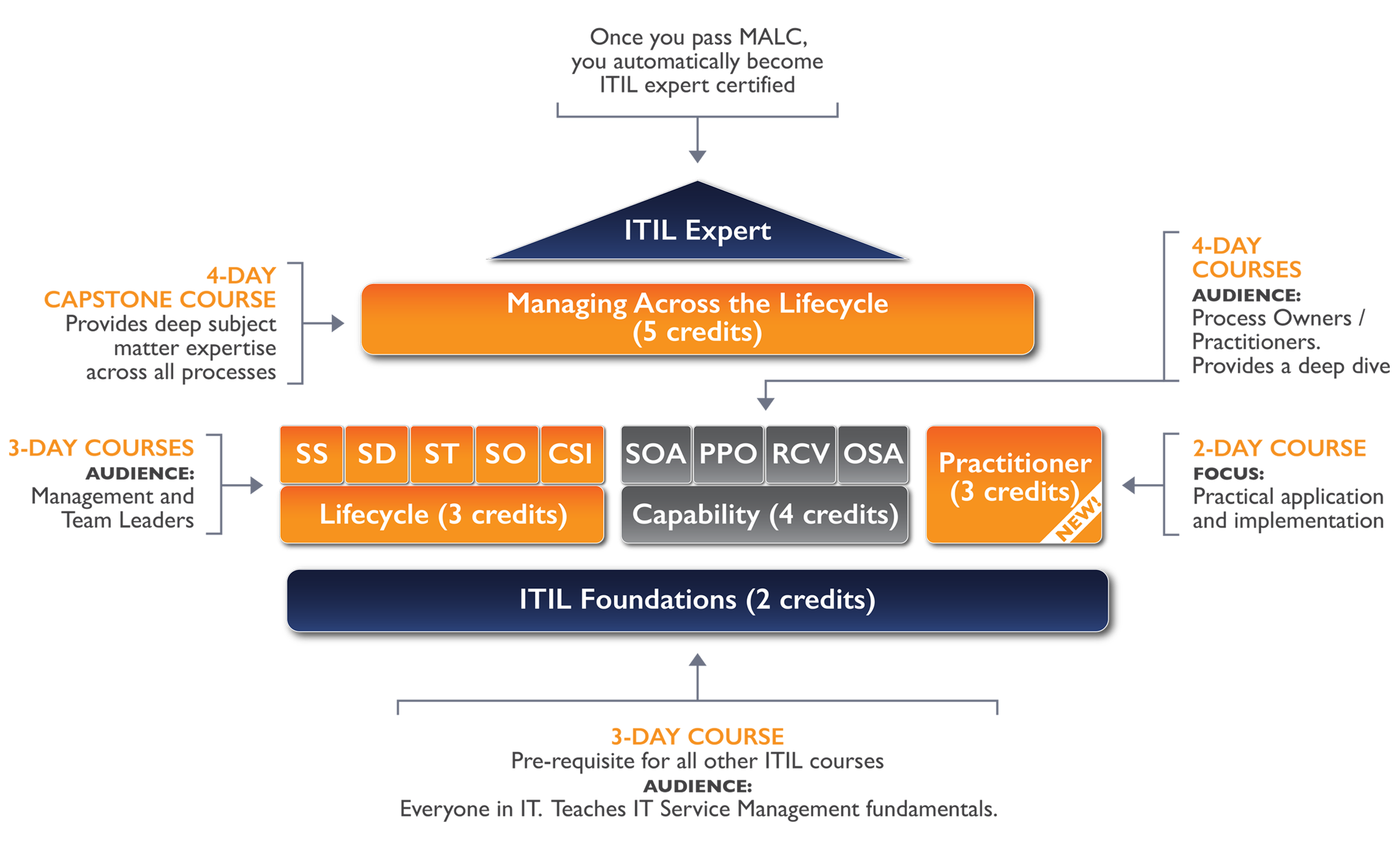 ITIL 4 also starts with an ITIL Foundation course, which offers an entry-level certification by teaching the key elements, concepts and terminology used in the newest version. Like with v3, ITIL 4 Foundation is helpful for professionals looking for a basic understanding of ITIL and anyone looking to advance to further certifications.
ITIL 4 Certification Scheme
Like v3, ITIL 4 offers two modular certification paths after the Foundation course. These two modules allow you to become either an ITIL Managing Professional (MP) or an ITIL Strategic Leader (SL). Each requires a different set of courses, though the ITIL Strategist Direct, Plan & Improve course is needed for both tracks.
The ITIL Managing Professional certification is recommended for professionals who need practical and technical knowledge to lead IT projects and digital teams, while ITIL Strategic Leadership is aimed more at people in leadership positions looking for a clear understanding of how IT influences and directs business strategy.
For Managing Professional (MP), here's the path:
To be certified as a Managing Professional, you have to take three specialist modules (Create, Deliver & Support; Drive Stakeholder Value; and High Velocity IT) and the Direct, Plan & Approve module. The specialist modules provide useful knowledge for IT practitioners working in a variety of digital teams.
Here's the path for Strategic Leader (SL):
The ITIL Strategic Leader option requires the same Direct, Plan & Improve module as well as the ITIL Leader Digital & IT Strategy module. Each one is valuable as a course, but you'll need both for the certification.
Other prerequisites for the Strategic Leadership certification are three years of managerial experience and a completion of ITIL 4 Foundation.
Candidates who complete all five modules, becoming both an ITIL MP and ITIL SL, will be eligible for the ITIL Master (replacing ITIL Expert, the title earned upon completion of ITIL v3's capstone course).
That's what we know thus far! Though change tends to bring with it a certain amount of resistance, I'm looking forward to this update. Just as the update from v2 to v3 brought timely enhancements, I'm convinced ITIL 4 is right on time with this overhaul. ITIL has proven itself over the years to be an adaptable and relevant framework for aligning IT with the business and for leading IT organizations, and this newest will be no exception
Stay tuned! We're learning more about ITIL 4 every day and will pass any news along as it becomes available.