CompTIA A+ Training Course
Class available live online
Lay the foundation of your IT career with CompTIA A+ certification. Our next-gen CompTIA A+ training boot camp is the introductory course that gives you the experience needed to confidently sit for and pass the CompTIA A+ 220-1001 and 220-1002 exams. With our elite subject matter expertise, next-gen virtual training, and white glove service, you'll earn your CompTIA A+ certification in no time.

5 Day Course

Exam Voucher Included

Practice Exam Questions
40 PDUs

Award-Winning Instructors
Industry-Leading Courseware
NEXT-GEN ONLINE CYBER SECURITY TRAINING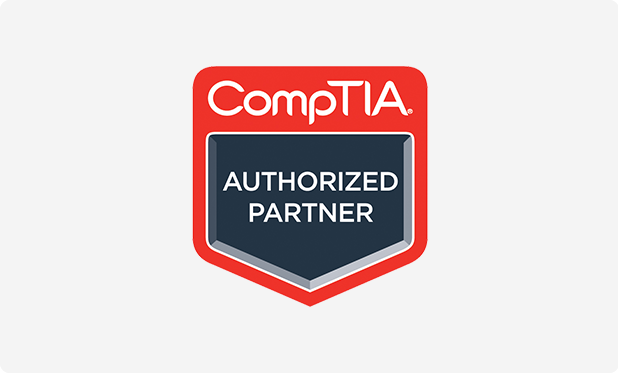 COMPTIA A+ TRAINING
Our 5-day boot camp provides the skills and knowledge needed to confidently understand and support today's most relevant technologies. Join the ranks of technology experts with this globally-recognized certification course.
Key Features of A+ Training Exam Voucher Included
Exam Voucher Included
5 Days of Virtual Training
Award-Winning Instructors
Accredited Training Provider
Early Registration: 9+ Weeks Prior to Start Date
General Registration: 2 - 9 Weeks Prior to Start Date
Late Registration: Fewer than 2 Weeks Prior to Start Date
Live Instructor?
Live Online?
Guaranteed to Run?
CompTIA A+ Training and Certification
Live Virtual Class
February 27 - March 3, 2023 . 5 days
10:00 am - 5:00 pm
CompTIA A+ Training and Certification
Live Virtual Class
April 24 - April 28, 2023 . 5 days
10:00 am - 5:00 pm
Our CompTIA A+ Instructors
Mark Hillyard
Mark Hillyard (CISSP, ITIL Expert, ITIL MP) has worked in the IT industry for more than 20 years, including as a Public Key Infrastructure (PKI) and Domain Name System (DNS) Architect for GoDaddy.com. His experience ranges from some of the largest system infrastructures supporting the internet to boutique, game-changing start-ups. He has led large-scale data center asset management initiatives and has developed and managed such systems for enterprise infrastructures. Now a full-time Senior Advisor and resident InfoSec guru, Mark is helping transform IT organizations through process management, security development, and training.
MARGUERITE FINNIGAN, PHD
Marguerite is a cyber security consulting and training specialist with a passion for increasing awareness and technical understanding of global security threats and solutions. She has worked in the IT field since the mid-1980s and has worked around the world for the last 10 years training executives and operatives in major corporate organizations, financial institutions, and military organizations. She has addressed audiences at national conferences on behalf of (ISC)², where she has been a lead cyber security instructor for 10 years. She currently holds a "Secret" level security clearance with the US government.

"One important factor that makes Beyond20 a great organization is that the instructors work as consultants to organizations both in the private and public sector. The instructors have an excellent command of the material and have real-world experience with designing and implementing these principles. With their background, they can adapt discussion to a particular client and help students understand concepts based on how they fit into their organizations."
Lucinda F., Manager, IT Field Operations
"The instructor knew his stuff! The materials were well designed and the course was well paced and very appropriate for our group."
Allan C., Project Engagement Manager

"It was huge for Board of Pensions (BOP) to start speaking the same language, have a common understanding, be equipped to drive culture change, and change everyone's thinking. Now, the team is creating something together."
Nick , Assistant Director, Service Desk
Need training for a group?
FREQUENTLY ASKED QUESTIONS
Subject Matter Expertise
We understand that your goal is to learn effectively and get certified in one shot. After all, certification training can be a substantial investment. As such, it's critical to us that you learn from someone who will help you retain key concepts and get you across the finish line efficiently.
But at the same time, who wants to take a boring class? If we're going to spend a lot of time looking at screens, the material should at least be engaging. That's why we're hyper-focused on bringing variety to your virtual training experience. People learn differently, so we use several methods to teach concepts throughout the day.
White Glove Service
We all know that bad customer service is one of the most frustrating things there is. That's why we've endeavored to create the kind of training experience that we would want for ourselves.
We're a US-based organization with offices in DC, Phoenix, and San Diego. Come through! Otherwise, we'll be happy to meet you virtually.
Rest assured: At Beyond20, our instructors are some of the world's best. Not only do our full-time, in-house training staff have decades of experience in the field, but in many cases, we are the official authors of authoritative publications (e.g., ITIL). Working with Beyond20 means learning from the top subject matter experts out there. It means training and taking your exams with confidence.
Next-Gen Virtual Training
Depending on the course, this can include interactive whiteboards, breakout rooms, virtual sticky note walls, and more. We take this approach not only because it's more fun than simply memorizing terms, but because it works.
From the instant that you first reach out to us with a quick question, to that glorious moment when you learn you've earned the certification, our job is to make sure that every interaction you have with us is a positive one. If you look at our hundreds of Google-verified reviews, you'll see that we take it seriously! Beyond20 is not a risky choice.
If you're PMP-certified, our courses will earn you PDUs!
CompTIA Network+ Training Course
This 3-day bootcamp course will prepare you for the Network+ certification (DoD 8140/8570 compliant).
CompTIA Security+ Certification Training
This 5-day course incorporates exercises and short-form lectures to prepare you for Security+ certification (DoD 8140/8570 compliant).
Cybersecurity Analyst (CySA+) Training Course
This 4-day defense-in-depth course will hone your Blue Team skills and prepare you for CySA+ (DoD 8140/8570 compliant).