Course Overview
Lay the foundation of your IT career with CompTIA A+ certification. Our 5-day bootcamp provides the skills and knowledge needed to confidently understand and support today's most relevant technologies. This course is designed to build expertise around a variety of IT issues, including operating systems, security, mobile devices, networking, and hardware and software troubleshooting. Our comprehensive CompTIA A+ training is an intermediate level course that gives you the experience needed to confidently sit for and pass the CompTIA A+ 220-1001 and 220-1002 exams.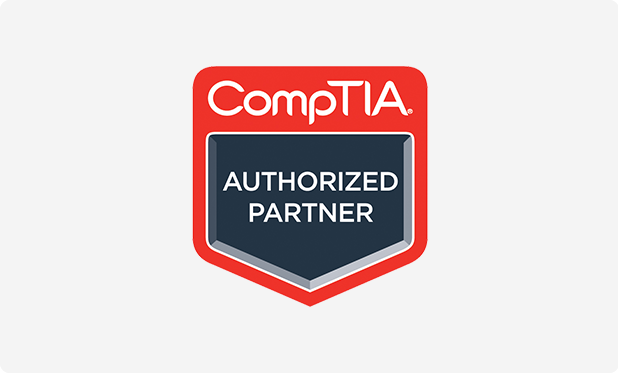 Group Training
Bring our world-class instructors on site to deliver interactive CompTIA A+ training to your whole team.
Early Registration: 9+ Weeks Prior to Start Date
General Registration: 2 - 9 Weeks Prior to Start Date
Late Registration: Fewer than 2 Weeks Prior to Start Date
Live Instructor?
Live Online?
Guaranteed to Run?
CompTIA A+ Training and Certification
Live Virtual, DC - Virtual Class
April 6 - April 10, 2020 . 5 days
9:00 am - 5:00 pm
$2495
---
Regular Registration
CompTIA Network+ Training Course
This 3-day bootcamp course will prepare you for the Network+ certification (DoD 8140/8570 compliant).
CompTIA Security+ Training
This 5-day course incorporates exercises and short-form lectures to prepare you for Security+ certification (DoD 8140/8570 compliant).
Cybersecurity Analyst (CySA+) Training Course
This 4-day defense-in-depth course will hone your Blue Team skills and prepare you for CySA+ (DoD 8140/8570 compliant).
Need training for a group?


FREQUENTLY ASKED QUESTIONS
How We Teach
People learn differently, so we use a variety of methods to teach concepts throughout the course. In addition to exam preparation and practice quizzes, you'll engage in round-table discussions, group exercises, and games designed to give practical context to the concepts. We take this approach not only because it's more interesting and fun than simply memorizing vocabulary, but because it works.
All of our instructors are experienced practitioners with real world cyber security expertise. (Real experience, too. Like, former-CIO-level experience.)
We're a US-based organization with offices in DC, Phoenix, and San Diego.
Industry-Leading Course Materials
All of our courseware is reviewed multiple times a year to ensure it's up to date, in line with best practice standards, and effective! We incorporate feedback from students to constantly improve our course books, in-class activities, and (sorry) homework. The goal is to provide you with the tools to not only get you through class and pass the exam, but also to have a reliable reference when you get back to the office.
We don't just teach to the exam (though we certainly do that), we also give you practical and personalized tools you can take back to work.
We're a Registered Education Provider with PMI, so if you're PMP Certified, the course will earn you PDUs!